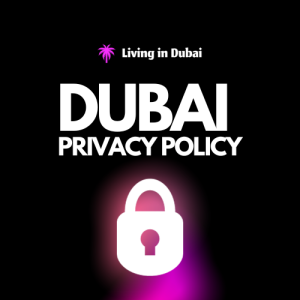 At Living in Dubai, we are committed to protecting your privacy and complying with the GDPR regulations. This GDPR page outlines our data privacy practices, including the types of personal data we collect.
How we use and store it, and your rights as a user of our website. We strive to provide transparency and clarity regarding the handling of your personal information
Types of Personal Data & Privacy Policy Collected:
We may collect various types of personal data from you when you visit our website, such as your name, email address, contact information, and demographic details. This information is voluntarily provided by you when you engage with our website, subscribe to our newsletters, or fill out forms for inquiries.
Legal Basis for Processing Personal Data:
Living in Dubai processes personal data based on the legitimate interests pursued by our website and the necessity to fulfill contractual obligations when applicable. We only process personal data with your consent or when necessary for the performance of a contract or compliance with legal obligations.
Data Usage and Purpose:
The personal data collected from you is used for the following purposes:
To provide you with the information, products, or services you have requested.
To personalise your experience on our website and deliver relevant content.
To communicate with you regarding updates, newsletters, promotions, and offers.
To improve our website, services, and user experience.
To comply with legal obligations and protect our rights and interests.
Data Storage and Security:
Living in Dubai takes data security seriously. We implement appropriate technical and organizational measures to safeguard your personal data against unauthorised access, disclosure, alteration, or destruction. We retain your personal information only for as long as necessary to fulfill the purposes outlined in this GDPR page or as required by applicable laws.
Your Rights:
As a user, you have certain rights regarding your personal data under the GDPR. These rights include the right to access, rectify, restrict, or delete your personal data. You also have the right to withdraw your consent at any time. If you wish to exercise any of these rights or have any questions regarding your personal data, please contact us using the information provided below.
Third-Party Disclosures:
Living in Dubai may disclose your personal data to trusted third-party service providers who assist us in delivering our services, analyzing website performance, or conducting marketing activities. These third parties are obligated to handle your data in accordance with GDPR regulations and our data privacy standards.
Cookie Policy:
Our website uses cookies to enhance your browsing experience and collect anonymous usage statistics. By using our website, you consent to the use of cookies in accordance with our Cookie Policy. You have the option to manage your cookie preferences through your browser settings.
Organise Your Browser cookies:
https://support.google.com/chrome/answer/95647?hl=en (Chrome)
https://support.mozilla.org/en-US/kb/enable-and-disable-cookies-website-preferences (Firefox)
http://www.opera.com/help/tutorials/security/cookies/ (Opera)
https://support.microsoft.com/en-gb/help/17442/windows-internet-explorer-delete-manage-cookies (Internet Explorer)
https://support.apple.com/en-gb/guide/safari/sfri11471/mac (Safari).
https://privacy.microsoft.com/en-us/windows-10-microsoft-edge-and-privacy (Edge).
Changes to Our GDPR Privacy Policy:
Living in Dubai reserves the right to update or modify this GDPR policy at any time. Any changes will be reflected on this page, and we encourage you to review this policy periodically for updates.
Contact Us:
If you have any questions, concerns, or requests related to our GDPR compliance or data privacy practices, please contact us at: Email: hello@LivinginDubai.co.uk
We value your privacy and appreciate your trust in Living in Dubai. Rest assured that we are committed to maintaining the security and confidentiality of your personal information in compliance with applicable data protection laws and Privacy Policy regulations.