What is Nightlife like in Dubai for UK Singles & Families?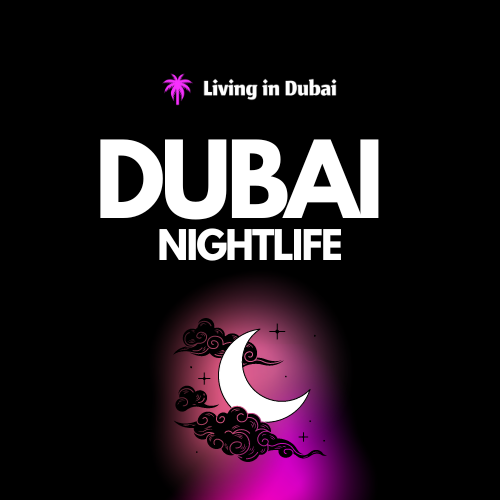 Welcome to our in-depth guide to the vibrant nightlife in Dubai. As the sun sets, Dubai comes alive with an array of thrilling entertainment options that cater to all tastes. 
Whether you're looking for chic rooftop bars with panoramic city views, pulsating nightclubs with renowned DJs, or cultural shows that showcase the region's rich heritage.
Dubai has it all. Join us as we delve into the things to do for nightlife in Dubai, providing you with detailed information about each experience, including website links and relevant statistics. Get ready to immerse yourself in the energetic and dynamic nightlife scene of this cosmopolitan city.
Checklist for Nightlife Scene in Dubai:
Explore the Iconic Nightclubs: 
Visit renowned nightclubs like White Dubai, BASE, and Armani/Privé, known for their vibrant atmosphere and world-class DJs.
Enjoy Rooftop Bars: 
Experience Dubai's skyline views and trendy ambiance at popular rooftop bars like 40 Kong, Iris, and Pure Sky Lounge.
Attend Live Music Events: 
Catch live performances by international artists and local talents at venues like Coca-Cola Arena, Dubai Opera, and The Fridge.
Discover Beach Clubs: 
Relax and party at beach clubs such as Zero Gravity, Nikki Beach, and Barasti Beach, offering beachside vibes and entertainment.
Try Shisha Lounges: 
Experience the Middle Eastern tradition of shisha smoking at popular lounges like QD's, Layali Dubai, and Blue Marlin Ibiza UAE.
Explore Food and Drink Festivals: 
Attend food and drink festivals like Taste of Dubai, Dubai Food Festival, and Dubai Cocktail Festival for a diverse culinary experience.
Visit Sports Bars: 
Cheer for your favorite sports teams at sports bars like Lock, Stock & Barrel, Nezesaussi Grill, and The Irish Village, offering live screenings and pub-style atmosphere.
Attend Ladies' Nights: 
Take advantage of the many ladies' nights held across the city, offering discounted or free drinks for women at various venues.
Explore Dubai Marina Walk: 
Stroll along the vibrant Dubai Marina Walk lined with restaurants, cafes, and bars, offering a lively atmosphere and waterfront views.
Experience Dubai Mall's Nightlife: 
Discover the vibrant nightlife options at Dubai Mall, including trendy lounges, movie theaters, and late-night shopping experiences.
Remember to familiarize yourself with Dubai's nightlife rules and regulations, such as age restrictions and alcohol consumption guidelines, to ensure a safe and enjoyable experience.
| Checklist Item | Description |
| --- | --- |
| Research popular nightlife venues | Explore the various nightlife venues in Dubai, including nightclubs, bars, lounges, and beach clubs. Look for venues that suit your preferences and interests. |
| Check opening hours | Determine the opening hours of the venues you plan to visit, as they may vary. Some places have specific timings for weekdays and weekends. |
| Dress code requirements | Check if there are any specific dress code requirements for the venues you plan to visit. Dubai has a smart casual dress code in most places, but some venues may have more formal attire expectations. |
| Understand entry policies | Be aware of any entry policies, such as age restrictions or entry fees, that may apply to certain venues. Some places have age limits, while others may require reservations or guest lists for entry. |
| Plan transportation | Plan your transportation to and from the nightlife venues. Consider using ride-hailing services, taxis, or designated drivers to ensure a safe journey. |
| Familiarize yourself with local customs | Learn about the local customs and etiquette when it comes to nightlife. Respect the local laws and traditions, and be mindful of your behavior in public spaces. |
| Stay informed about upcoming events | Stay updated on upcoming events, special parties, or live performances happening in the city. Follow social media accounts or check event listings for the latest information. |
| Arrange meeting points | If you're going out with a group of friends, decide on meeting points or designated areas in case you get separated during the night. Ensure everyone has a way to communicate with each other. |
| Stay safe and drink responsibly | Practice responsible drinking and ensure your safety. Be mindful of your alcohol consumption, stay hydrated, and avoid driving under the influence. Look out for your friends' well-being as well. |
| Have emergency contacts on hand | Keep a list of emergency contacts, including local authorities, embassy or consulate information, and trusted friends or family members who can assist you if needed. |
White Dubai: 
A renowned nightclub known for its rooftop setting and energetic atmosphere, featuring live DJs and celebrity performances.
BASE Dubai: 
A popular nightclub located in d3 (Dubai Design District), offering a dynamic nightlife experience with state-of-the-art visuals and music from international artists.
Armani/Privé: 
Located in the iconic Burj Khalifa, this sophisticated nightclub attracts a trendy crowd with its stylish ambiance and great entertainment.
Cavalli Club: 
An opulent venue designed by fashion designer Roberto Cavalli, offering a combination of dining, dancing, and live entertainment.
Barasti Beach: 
A beachside bar and club with a relaxed atmosphere, offering stunning views of the Dubai Marina and a diverse music lineup.
Zero Gravity: 
A beach club and lounge known for its beachfront location, pool parties, and renowned international DJs.
Soho Garden: 
A multi-concept destination featuring restaurants, bars, and a nightclub, known for its trendy vibe and a lineup of world-class DJs.
The Music Room: 
A live music venue hosting a variety of local and international bands, covering different genres and providing an intimate setting for music lovers.
Billionaire Mansion: 
A lavish nightclub and restaurant offering a luxurious experience with live entertainment, elegant interiors, and a lively dance floor.
Q43: 
A popular rooftop bar and lounge with panoramic views of Dubai's skyline, known for its relaxed ambiance, delicious food, and creative cocktails.
These venues represent just a glimpse of Dubai's vibrant and diverse nightlife scene, catering to different tastes and preferences. 
It's essential to check the specific entry requirements, dress codes, and reservation policies of each venue before visiting.
| Nightlife Venue | Description | Location | Website |
| --- | --- | --- | --- |
| White Dubai | Rooftop nightclub with a trendy atmosphere, featuring international DJs and live music performances. | Meydan Racecourse Grandstand | www.whitedubai.com |
| Cavalli Club | Lavish nightclub known for its stylish interiors, celebrity sightings, and energetic dance floors. | Fairmont Hotel, Sheikh Zayed Road | www.cavalliclub.com |
| Zero Gravity | Beach club and bar offering stunning views, pool parties, DJ sets, and a vibrant social atmosphere. | Skydive Dubai Drop Zone | www.0-gravity.ae |
| Pier 7 | Multi-level dining and entertainment destination with seven different restaurants and lounges. | Dubai Marina | www.pier7.ae |
| Barasti Beach Bar | Popular beachside bar with a relaxed vibe, live sports screenings, live music, and beach parties. | Le Méridien Mina Seyahi Beach | www.barastibeach.com |
| MusicHall Dubai | Live music venue showcasing a variety of performances, including international bands and artists. | Zabeel Saray, Palm Jumeirah | www.musichall.ae |
| Billionaire Mansion | Glamorous nightclub offering a luxurious experience with fine dining, live entertainment, and DJs. | Taj Hotel, Business Bay | www.billionairemansiondubai.com |
| Atlantis The Palm | Iconic hotel complex with multiple nightlife options, including clubs, lounges, and beach bars. | Palm Jumeirah | www.atlantis.com |
| The Irish Village | Authentic Irish pub known for its lively atmosphere, live music, pub food, and outdoor seating. | Garhoud | www.theirishvillage.com |
| Jumeirah Beach Hotel | Luxury beachfront hotel with several bars and lounges offering stunning views and great ambiance. | Jumeirah Beach Road | www.jumeirah.com |
What is the Nightlife Weather Like?
UK Expats Living in Dubai can experiences a desert climate characterized by hot and sunny weather throughout the year. 
From October to April, the city enjoys more moderate temperatures. October sees an average high of 36°C (97°F) and a low of 24°C (75°F), gradually decreasing to 26°C (79°F) high and 14°C (57°F) low in January. 
February marks the transition to warmer weather, with average highs reaching 25°C (77°F) and lows of 14°C (57°F). From May to September, temperatures soar, with June being the hottest month, reaching average highs of 40°C (104°F) and lows of 28°C (82°F). It's important to note that Dubai experiences very little rainfall throughout the year.
| | | |
| --- | --- | --- |
| Month | Average High (°C) | Average Low (°C) |
| January | 24 | 14 |
| February | 25 | 15 |
| March | 28 | 17 |
| April | 33 | 20 |
| May | 38 | 24 |
| June | 40 | 26 |
| July | 41 | 30 |
| August | 41 | 30 |
| September | 39 | 27 |
| October | 35 | 23 |
| November | 30 | 19 |
| December | 26 | 15 |
Evening City Guide Checklist
Getting Around: 
Dubai boasts a well-connected public transportation system, including the Dubai Metro, buses, and taxis. Consider getting a Nol Card for easy access to different modes of transport. Alternatively, popular ride-hailing apps like Uber and Careem are readily available.
Weather: 
Dubai experiences a desert climate, with scorching summers and mild winters. For the hot summers, pack lightweight, breathable clothing, and bring a light jacket or sweater for cooler winter evenings.
Language: 
Arabic is the official language, but fear not – English is widely spoken, particularly in tourist areas, hotels, and restaurants.
Currency: 
Dubai uses the UAE Dirham (AED). You'll find ATMs all over the city, and major credit cards are widely accepted.
Must-Visit Attractions:
Burj Khalifa: 
Elevate to the observation deck for breathtaking city views. Burj Khalifa
The Dubai Mall: 
Shop till you drop and explore entertainment options, including the Dubai Aquarium and Underwater Zoo. The Dubai Mall
Palm Jumeirah: 
Visit this man-made island, home to luxurious resorts, restaurants, and the iconic Atlantis, The Palm. Palm Jumeirah
Dubai Marina: 
Enjoy a leisurely waterfront stroll, dine at waterfront restaurants, or embark on a boat cruise. Dubai Marina
Jumeirah Mosque: 
Admire the beauty of the Islamic religion in one of Dubai's prominent mosques, open to non-Muslim visitors. Jumeirah Mosque
Shopping: 
Dubai is a shopper's paradise with numerous malls, souks, and markets. Explore the traditional Gold Souk, Spice Souk, or modern malls like Mall of the Emirates and Ibn Battuta Mall for an extensive retail therapy experience.
Dining: 
Dubai offers a wide range of dining options, from local Emirati cuisine to international flavors. Indulge in Middle Eastern delicacies, experience fine dining in iconic restaurants, or savor global culinary delights in trendy eateries across the city.
Safety: 
Dubai is considered a safe city for tourists. Nevertheless, it's wise to take necessary precautions, like safeguarding your belongings and adhering to local laws and customs.
Cultural Etiquette: 
Show respect for local culture by dressing modestly when visiting religious sites and public places. Public displays of affection and consuming alcohol in public areas are not well-received.
Leisure and Entertainment: 
Dubai offers an array of activities for leisure and entertainment. Experience thrilling desert safaris, water parks, indoor skiing, water sports, and visit attractions like Dubai Frame, Miracle Garden, and Dubai Opera for a diverse range of experiences.
Dubai is a city where innovation meets tradition, a place where dreams come true. Enjoy your time exploring this dynamic destination, and may your Dubai adventure be filled with unforgettable memories!
10 Nightlife Links for Exploring Dubai
Here are some essential links to help you explore Dubai, from tourism information to government services and major attractions:
These websites and addresses provide valuable information about various aspects of Dubai, including tourism, government services, transportation, attractions, and shopping. They are reliable sources to learn more about Dubai and plan your visit effectively.
Legal drinking age in Dubai:

21 years old.

Dress codes for nightlife venues:

Smart casual attire is generally preferred.

Alcohol service and limitations:

Yes, many venues serve alcohol, and there are regulations on consumption, usually within licensed premises like hotels and clubs.